Professional Support - Rita Proctor
---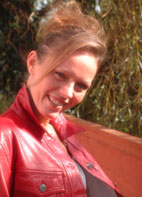 Leicester born Rita has appeared at some of the world's top cabaret and theatre venues, her last trip abroad saw her in Japan for a six month cabaret engagement.
Following her dance training in Leicester, Rita continued her studies at the famous London Studio Centre. Before becoming a top choreographer in her own right, she worked for such notable choreographers as Phil Winston and the legendary Brian Rogers, including a season of "How Tickled I Am" with Ken Dodd at the London Palladium. That particular show has also seen two television screenings. In 1993 she appeared in the Cannon & Ball 25th Anniversary Show at Blackpool's North Pier.
Rita has also appeared several times on television including The Magic Comedy Strip for John Fisher assisting the world famous American illusionists The Pendragons with guest comedian Joe Pasquale.
In recent years however, it is as a choreographer that Rita is in most demand. She has also choreographed shows for Japan, Korea, Portugal and Cyprus for the British Armed Forces as well as several productions for cruise liners. She also choreographed several pantomimes for Pantoni Productions, including seasons at Yeovil, Hayes and Canterbury.
For two seasons Rita choreographed the In House Floorshows for Haven Holidays, her work being presented at twenty four of their centres. She also choreographed over twenty four productions for Haven over four summer seasons in Great Yarmouth.
She has choreographed a galaxy of stars including the international Australian superstar Natalie Imbruglia, Jonathon Morris, Gladiator's Wolf, Hunter and Panther, Craig Charles, Neighbours stars Lucinda Cowden and Fiona Corke, Maureen Nolan and Yvette Fielding
In 1996, together with David Lee she was thrilled to present a most innovative new Song & Dance show "Music Explosion 96" for the Butlin's Holiday Worlds which paid tribute to the hit music makers of that era, such as Take That, Boyzone, Eternal, Gloria Estafan and even Blur & Oasis. In this show her energetic and sparkling choreography charters new ground and has been most highly acclaimed. She is currently working on a new production called "IT'S HITZ!" with David Lee, again

The highlights of her professional career to date was being invited to choreograph for the Grand Order of Water Rats. In July 1992 she staged a "Can Can" as a finale' special cabaret at a Gala dinner at the Savoy Hotel, hosted by the GOWR. Not only was she presenting her work in front of an audience of top showbusiness luminaries, the guest of honour was HRH Prince Michael of Kent, whose 50th Birthday was being celebrated at the event.
Later that year, King Rat Bert Weedon invited Rita to present two routines for the GOWR Annual Ball at the Grosvenor House Hotel on Park Lane, both numbers receiving great praise from everyone present on the night. Rita was also most honoured to present her dancers before HRH Prince Philip at Windsor. Since then she has been invited to present her dancers for these two illustrious orders on several occasions.
In 1997 Rita was honoured to present two special routines to the memory of legendary American composer Jule Styne at the London Palladium.
Many corporate events fill her diary each year, one particular highlight this year was an event for The Las Vegas Tourist Board at the Dorchester Hotel in Park Lane which starred Russ Abbott.
In November 1998 she appeared to great critical acclaim as the legendary American Busby Berkeley Film Star Ruby Keeler in the World Premier of the musical life-story of Al Jolson "You Ain't Heard Nothin' Yet" at the Octagon Theatre in Yeovil.
Last February she choreographed an exciting new UK touring production of Warner Bros. Oh Yes It Is LOONEY TUNES Live On Stage!